What is Mid-India Church Partners?
Mid-India Church Partners, Inc. is dedicated to spreading the gospel of Christ throughout India. The primary purpose of MICP's organization is to promote and foster growth through church planting, evangelist training and caring for persecuted children. The Book of John encompasses Jesus' life, ministry, death, and resurrection. This, the true call of the Gospel, shapes our understanding of God and His role as Appointed King (Acts 13:33). Our mission entails more than just an invitation to follow Jesus it is a call to be saved, make disciples of all nations, to boldly proclaim Christ and teach through discipleship as it is written:
Because if you confess with your mouth that Jesus is Lord and believe in your heart that God raised him from the dead, you will be saved. For with the heart one believes and is justified, and with the mouth one confesses and is saved.

// Romans 10:9-10
And Jesus came and said to them, "All authority in heaven and on earth has been given to me. Go therefore and make disciples of all nations, baptizing them in the name of the Father and of the Son and of the Holy Spirit."

// Matthew 28:18-20
Why India?
India is a large country in southern Asia where the predominant cultural and religious influence is Hindu. In fact, for many natives, a large portion of their country is properly called Hindustan, not India. It is the second most populous country in the world with over 1.2 billion residents- nearly four times as many people living in the United States. With a landmass that is less than 1/3 as big, their country is nearly 12 times more densely populated as the United States.
There are many challenges across the socio-economic spectrum in India. The severity of issues like poverty, malnutrition, education, literacy, corruption and terrorism make for a very difficult life for hundreds of millions of people. Roughly 80% of the people are Hindu, 12% Muslim, and less than 3% of the people are Christian. In many states it is illegal to share your faith and convert people to Christianity without permission from the court – a fact that makes Christian life, let alone Christian ministry, even more difficult than most Westerners can imagine. It also amplifies how desperately the people of India need to hear the truth about Jesus Christ.
Heritage of Mid-India Church Partners
The hand of God has undeniably been protecting and guiding the work of the Lall family and this ministry across 100+ years of history. The heritage of Mid-India Church Partners can be traced to the late 1800s. Restoration Movement Missionaries began working in Central India in 1893 near the town of Bilaspur. Within a few years, the work expanded to the town of Damoh and included a boys' orphanage.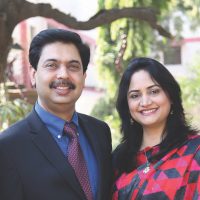 A young Hindu woman who had received medical care from these missionaries had also made a decision to become a Christ-follower. Before succumbing to her illness, she entrusted her young son, Samuel, to the care of these missionaries. Samuel grew up in the orphanage in Damoh as a Christian and took the last name Lall. As a young adult, he began teaching at a mission school in Damoh, married and had two sons, Vijai and Stanley as well as a daughter, Ramola. In the late 1960's Samuel's sons, Vijai, Stanley and Jay Henry (husband of their sister Ramola) founded Mid-India Christian Mission in Damoh – the same town to which their grandmother had brought their father to be raised by missionaries so many years before. The ministry began with a one-room school and an evangelistic ministry. The next generation of Lalls have carried on and dramatically expanded the ministry.
Vivert Lall is the younger son of Stanley Lall, and the grandson of Samuel, the Hindu orphan raised by Western missionaries. He was born and raised in Damoh before studying at the University of Sagar, she yea also thrived as a Cricket player and completed his Master's degree in Mathematics in 1991. After college, Vivert began working in the railroad industry and continued playing Cricket. However, as he saw how desperately the people of India needed Jesus, he also realized the need for more Christian workers. It was at that point that he knew it was God's will for his life to preach the Gospel and raise up leaders for the church in India. In order to better prepare himself, Vivert traveled to the United States to study at Atlanta Christian College. In 1993 he returned to India and married Neelam Archana Dass. After returning to the U.S. and graduating from Atlanta Christian College, Vivert and Neelam began building the ministry of Mid-India Church Partners.
They continue to reside in Damoh and are raising their two children, Monica and Lae Stanley, across the street from the same home in which Vivert was born and raised. It's easy to see that God's hand continues to guide this family and bless their efforts to reach people with the love of Jesus.
The ministry of Mid-India Church Partners continues to expand, both in terms of influence and effectiveness under Vivert and Neelam's leadership. God has blessed their church planting efforts as the ministry has spread across eight states in India and also expanded to the neighboring country of Nepal. The evangelist training ministry continues to produce the effective church leaders necessary for successful church planting efforts. New Hope, the ministry to care for children of persecuted families, is thriving and Shining Light is making a huge impact in the lives of children in local churches across India.