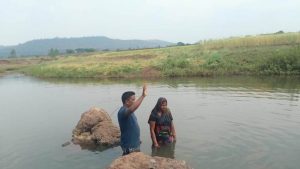 Even the Caste system, which is still prevalent in India, can't hinder our God. Indirawati, who was born in a high caste family, accepted Christ as her Lord and Savior and is now working in that area and helping evangelists to reach others.
Indirawati's family believed in the traditions and rituals of their religion very strongly. They did not respect people of other religions and considered lower castes as untouchables and did not eat or drink anything touched by them.
Indirawati's illness brought her to Christ. When the mission's evangelist and people from the mission came to know of her illness they went and prayed for her. Initially, Indirawati did not appreciate this since the evangelist was from a lower caste. She began to realize that she felt better after the prayers and hearing the Gospel and she started to welcome them. When her husband came to know about this he became furious and treated her badly, but she remained silent and unchanged. This behavior of his wife influenced him. Indirawati shared the Gospel with her husband and with the help of the mission and the evangelist the entire family changed and accepted Christ as their Savior.