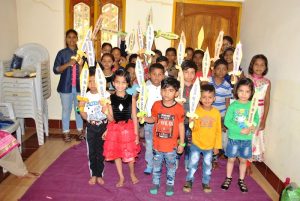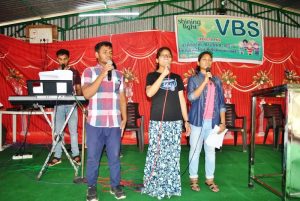 VBS was held at the Satellite Center at Bilaspur for the children living in surrounding areas of our church plants who are also under the Shining Light Program. This year a number of new children were a part of VBS. For many of these children, it was their first opportunity to be a part of a program such as this. It is a very exciting time for them. A total of 200 children (83 of which were new and had never been to VBS before) came this year and were thrilled and ready to learn.
A decision was made to take several of the New Hope children who could help with the VBS, to Bilaspur. The New Hope Children were able to form a better connection with the youth and children in Bilaspur and also share their faith with them. They did praise and worship with the kids and helped teach the classes. This made them enthusiastic to communicate more with the youth and children there and tell them how God changed their lives at New Hope.
"The Weapons of Spiritual Warfare", was the theme this year. The New Hope children had read and understood this topic in their Bible classes in the New Hope Home so they helped the teachers in the VBS to explain the topic to the children there. The children enjoyed doing craftwork and participating in action songs.
The New Hope Children also performed their talents during the VBS held at the Safe House in Jabalpur, The VBS held in Jabalpur also included the Shining Light children of the church plants in the area. About 150 children attended the program. The New Hope children and staff from the children's home along with the evangelists and church members in the area helped conduct the program. At the New Hope Home in Damoh, the children are given the opportunity to develop their talents so when they got this opportunity they were very excited. They taught the Shining Light children choruses and action songs and helped them do the craftwork that was organized.
All the Shining Light children were very excited and showed their interest to learn. The Shining Light children were encouraged by the performances of New Hope children.